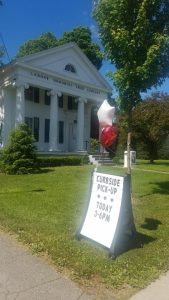 CURBSIDE PICK-UP
The library is now offering curbside pick-up Monday, Tuesday, Thursday, and Friday 3:00 – 6:00 p.m.
Follow these easy steps to place your requests:
Step One: Place your items on hold.
Step Two: Pick up your items.
Park at the back entrance to the library.
Call the library or ring the bell to let staff know you are here.
Wait for library staff to bring your request to the cart.
Once staff have left the cart, take your items.